Fieldtrip Yay!
It's been nigh four years since I had a fieldtrip. The years in between was a life spent pining for a fieldtrip. The next few years will be a life pining for another fieldtrip. I'm a fieldtrip buff. So while I narrate this four-year long accumulation of frustration and desire, suffer the sucky pictures taken by the palsied hands of three self-confessed camwhores.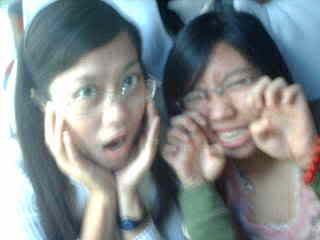 Ay, germonster.
The first stop was at a Hindu temple, located at (why are we not shocked?) Mahatma Gandhi St. along UN Avenue. We had a cool bus, with nice drink holders, ash trays and that pouch thingie in front of you where you put the trash. And where did we go?
Sa kabilang kanto!
We were asked to remove our shoes before entering the temple proper. Me having this sardonic and sadistic humor, I narrated the horrors of athlete's foot.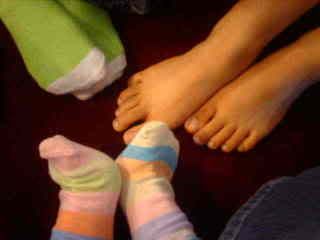 Kachichas Scare: Green Socks (Betch's), Striped Mismatched Socks (Lizette's), Bare Feet (Mishee's). Make a wild guess as to who gets attacked by the kachichas germonster.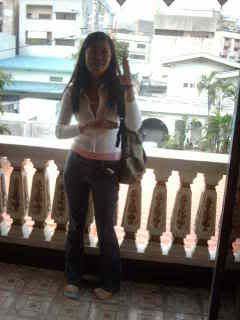 Ultrawave!
I liked the temple. The air smelled sweet, the wide space gave me an illusion of peace, and this Nepalese guy lecturer gave us a chunk of food served by hand---literally. The gunk was okay, if you don't think about all those things Captain Safeguardian warned you about. And I doubt if anyone understood his heavily accented rendition of English while explaining the Hindu religion. Fieldtrips were made to be fun, in my world.
The next temple was the Sikh's. It was along UN Avenue. Do you know how it feels to ride a fancy air-conditioned bus to somewhere within walking distance? And paying P550 for it? Well. Before entering, all of us were asked to remove our shoes and socks and wear a bandanna. The lecturer was straightforward and asked us to ask questions.
Dedma
. There was so much dead air, it could have strangled all of us dead and kicked our butts for good measure. Whatever happened to UP students being dynamic and inquisitive?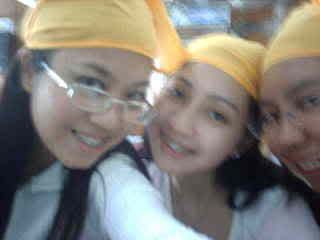 I know. They became camwhores.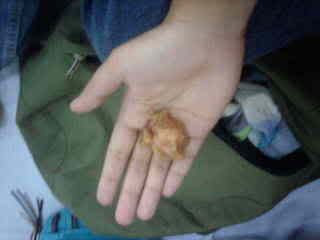 Sikh food, tastes like espasol, sweet, chewy, looks like poop. Served by hand.
Lunch time. Guess where we ate lunch, at three, two, one…Robinson's Place Manila! Wahoot wahoot! At this point my sarcasm fails to sustain me.
Sam oh Sam, where have you been all my life? Fag.
The next temple was Taoist, along Coastal Road. It was the farthest point in the whole trip, so I felt a little pacified and generally comforted. I would just looove to post pictures of Betch and Mishee snoozing (titties!), but they know too much blackmail-ish details about me, so.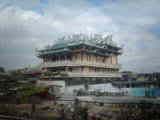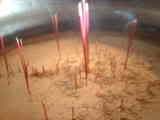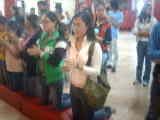 This is the point where my camera died on me. Low batt. Next, we went to the Buddhist temple near Rizal Memorial Stadium, along Adriatico Street. The lecture was interesting, and I am interested in Buddhism itself---it being atheist, and also because I am attracted to some features of the Buddhist way of life. Mishee, Betch and I intend to go back to the temple to take a pot shot at enlightenment. So, if you meet three girls, two fat and one thin(!), walking around with shaved heads, you know who they are.
The trip was happy and all that. Blah blah. Good night, get a life.