Sushi Ko
I used to horribly dislike sushi. First, I do not like the seaweed. The first time I tasted it (which was way back in Grade Three, courtesy of my Taiwanese classmate), I barfed. Second, the gummy texture of raw fish is icky. Third, chopsticks just do NOT cooperate with my fingers.
Oh what the fuck, I write horribly. Basta gusto ko na yung sushi ngayon! Pero isang sushi lang! Yung crabsticks (kani) lang! Kasi, yun lang ang lasang luto!!! At bakit puro exclamation ang sentence ko!!!
Dios me, desperado na nga ako. Wala akong ma-post na matino. Walang kwenta tong sinusulat ko. Saka na lang, kapag hindi ako masyadong inaantok at pag hindi na ako 106 pounds. Iritable ako sa mga ganitong sitwasyon.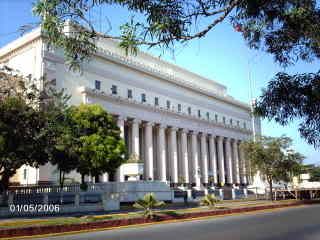 The office at its post.